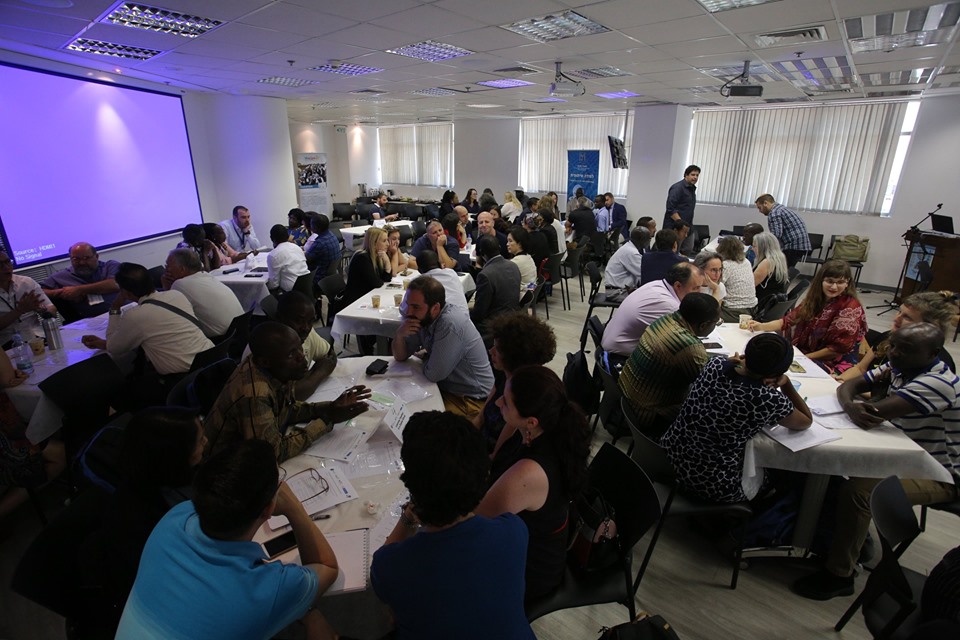 Closing Ceremony School Collaboration 2019 | METC
We asked our team guides - Ariel, Amalia, Noam and Roni- to ask one of their teaches to tell us about the plan*. How is it as a teacher? What do you like or dislike about the program? what skills do the students get from it? 
Join us to hear what they said! 
*Note: the team guides did not coordinate with whom they contact, therefore similarities are coincidential. 
1. Orly Kassiff, Ramot Yizchak school, Heifa, Israel. 
Partner with Kshama Thomas Jayaraj, Wilson College, Mumabi, India.  
"This is the second year my students and I take part in the Ministry's Program "Schools Online – Digital Collaborative Learning". We collaborate with students from Wilson College in Mumbai, India and their wonderful English teacher, Kshama. I am so thankful for the opportunity to create a new learning environment for myself and for my students. I feel that we are on a journey in which we learn not only about others but also about ourselves. We started by introducing ourselves on Padlet and then had a Skype talk. Our first Skype talk this year was a great experience as we managed to discuss our differences but also celebrate our similarities. We asked each other questions about our schools, favorite subjects, habits, hobbies and more. Spontaneously, we both sang our national anthems, and Kshama and one of the students sang two songs they know in Hebrew, and we joined them. It was magical.  
When asking my students about the experience they said that they felt it "was special and interesting" (Michael). "It was a good way to learn and expand our knowledge and a good way to practice speaking English" (David). "It was an amazing way to know each other" (Ofir).
We are currently preparing for our second Skype talk in which we will discuss our cultures and traditions (the students are presently working on a shared PPT (presentation) in which they present our holidays and traditions).  I feel that in addition to collaborative learning my students practice important values like accepting the other, respect, responsibility and more."
2. Natalya Penner, Lyceum #23, Aktobe, Kazakhstan. 
Partner with Noa Liebman, Brener school, kibbutz Brener, Israel.
3 . Herut Fleisher, Ohel Shalom school, Gadera, Israel. 
Partner with  Angel Rathnabai, Demonstration Multipurpose School, Mysore, India:  
"I experienced such a program last year in my 2nd degree. I learnt padlet, created a google site with my group (which included israeli, arab and german students) and other tools. I participated as a student and this year it is very interesting to do it as a teacher. The tools and the idea of collaboration are not new to me so I am in my comfort zone. As a student last year before we strated the program, I was concerned about it. I thought it would not work well and there would not be collaboration. but after the experience, I felt totally different. I enjoyed it very much and I thought what if I could give such experience to my pupils. Then I got the suggestion at the beginning of the year and I knew it was the opportunity for me to give my kids the same feeling I had.
I really enjoy in this program, and my students even more. They improved their writing and oral skills in an enjoyable and fun way. They are not afraid to communicate in English and it is a great achievment for me to see Hebrew speakers enjoy to speak in English. I think it is a very important program and Non-native English learners should experience it."
4.   Golovintseva Valeriya,   Nazarbayev Intellectual School of Chemistry and Biology, Pavlodar, Kazakhstan.  
 Partner with Segula Solomon, Hillel school, Ramat Gan, Israel.  
And a bonus piece, last but not least- student review! 
Glad you sticked with us!! We would always like to hear your feedback, ideas and suggestions.  
Write to roni@metc.org.il   
Roni Zedek  
Virtual courses coordinator, METC
Name: Roni Zedek