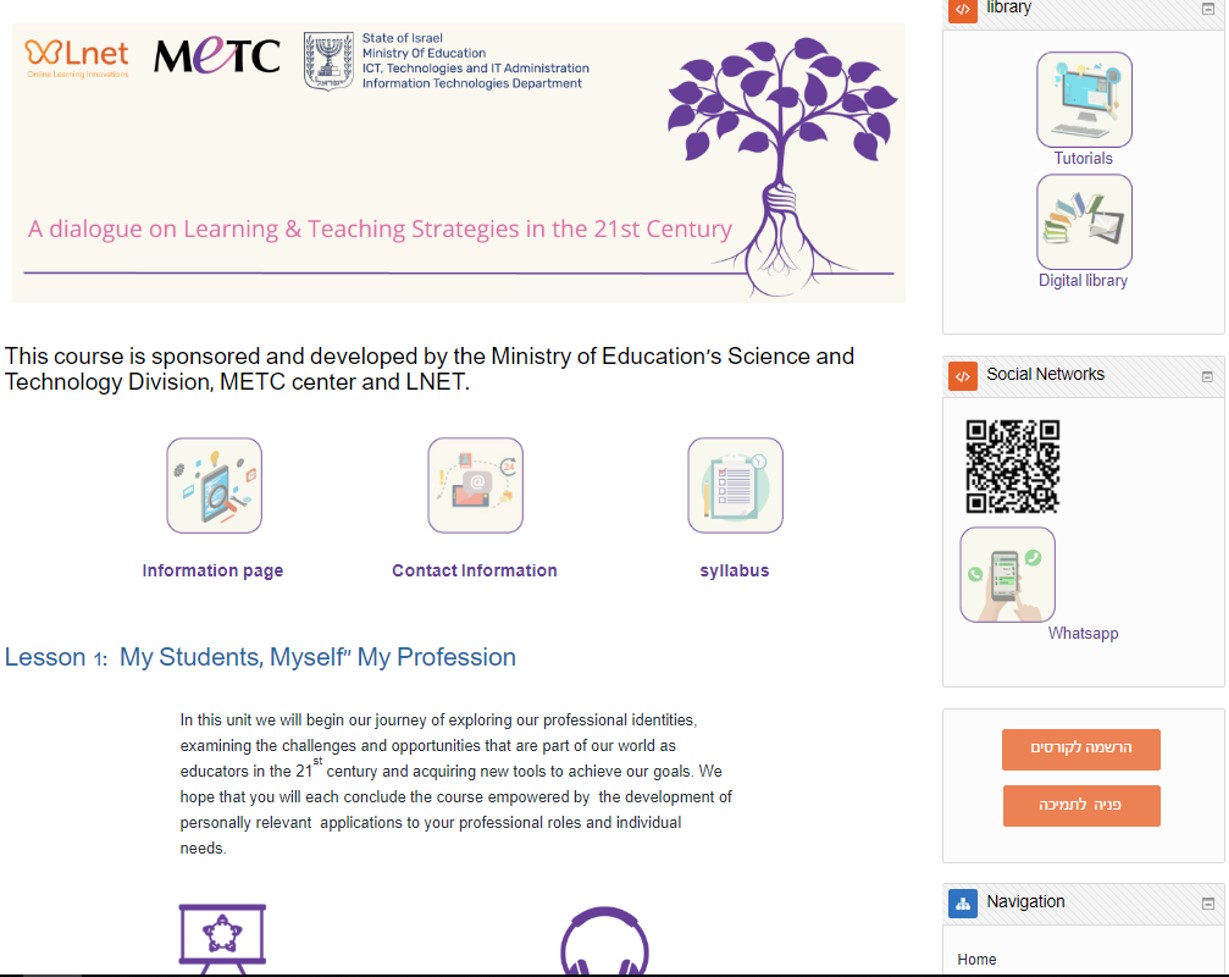 A dialogue on Learning & Teaching Strategies in the 21st Century | METC
Details
The course exposed the participants to a variety of teaching & learning strategies, innovative methodologies & content, and digital tools. The course created a space for the development of an educational dialogue on the ability of educators to cope with different challenges and realities.
Main Topics
·         My profession and the connection to teaching and learning, the influence of my cultural world as an educator on teaching and learning.
·         Emotional intelligence and its place in teaching and learning. Awareness of external and internal motivation factors.
·         Learning and Teaching in heterogeneous classes.
·         Effective and useful assessment. 
Course Program
The course includes 4 Synchronic ONLINE encounters & 4 A-Synchronic OFFLINE learning interactions between the encounters. In total 8 learning Units:
| | | |
| --- | --- | --- |
| UNITS | TOPIC | TYPE OF ENCOUNTER |
| 1 | "My Students, Myself" - Widening Our Personal and Professional Horizons. | ONLINE |
| 2 | "My students, My Community" - resources, challenges. | OFFLINE |
| 3 | "Empowering Our Students, Empowering Ourselves" - Motivation and Emotional Intelligence. | ONLINE |
| 4 | The Growth Mindset, Motivation. | OFFLINE |
| 5 | Heterogeneity and Diversity in the Classroom-Opportunities and Challenges. | ONLINE |
| 6 | Implementing Strategies in the Classroom. | OFFLINE |
| 7 | "Hand in Hand" Planning and Assessment in the 21st Century. | ONLINE |
| 8 | Final Project | OFFLINE |