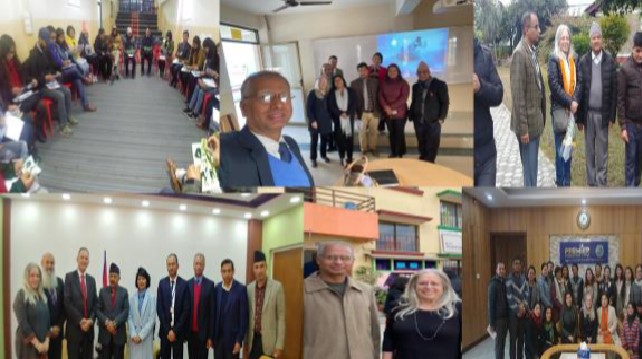 Yudith Rosenthal visit to Nepal | METC
The mission to Nepal was led by Ms. Yudith Rosenthal, director of the center. This was a follow-up to the participation of alumnae of METC from 2007, 2011 and 2018. The main purpose was to share ideas regarding the implementation of Educational Innovation, to review the system from the curricular field to the educational delivery and determine in which aspects it is necessary to strengthen pedagogic innovation processes together with the empowerment of teacher training in the Educational System.
This was an exploratory mission which objective was to strength ties with the Nepal's private Educational Sector and project future activities.
A wide range of activities have been done, on various topics including Innovation in Education, Future-oriented pedagogy, Entrepreneurship in school and tools Towards Education 2030,2030 Compass for the Wellbeing of the students , teaching faculty development and program development Studies while implementing SDG'S in the field, below you can find a detailed list of all the activities carried out:
1. Preparatory meeting/ Lecture with authorities of Kathmandu Model College Subject: Education towards 2030
2. Meeting with Students of the Kathmandu Model College and Golden Gate College on entrepreneurship and Innovation, Israel Startup Nation
3. Workshops on Future-oriented Pedagogy in the Educational system towards Education 2030 Colleges and Schools Authorities
4. Professional visits SOS Youth Facility and schools Pokkhara.
5. Workshop on Entrepreneurship and Innovation in the Educational system towards Education 2030 with Alumni of METC
6. Strategic meeting with the minister of Education together with Ambassador Benny Omer and the Head of Mashav Gil Haskel.
7. Meeting with MASHAV Alumni.
The audience who participated at the different events were authorities of the different private educational Institutes, Educators from different levels, teachers, supervisors, principals and students.
The mission included a wide range of activities with tools to stimulate a real transfer and implementation to reinterpret the "new reality" with the consequent requirement to unlearn or relearn the new paradigms.
Hoping that the work meetings, workshops and professional visits may open an innovative channel of new activities with the embassy and with the guidance of METC.