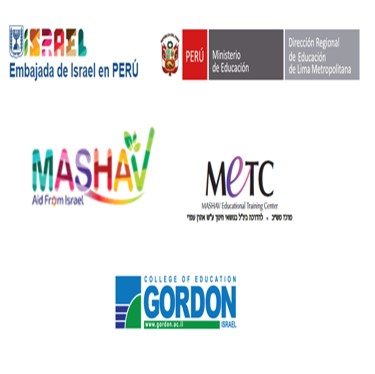 "Educación a Distancia desde la Práctica Israeli" | METC
Background
This program aims to support and share the basic tools so that educators can propose and manage an educational process with students who are in areas where connectivity exists and that they have access to computers.
This training will be from practice to practice. Participants will learn to use platforms and tools for online learning. During the training, they will have weekly tasks and the products can be used as learning resources after the training.
The participants were 150 Educators from Metropolitan Lima divided in three groups of 50 Educators in sessions of 120 minutes.
Course Program (Lima, Peru):
* Each training will have an accompaniment space (SGA) with materials and tasks to carry out between classes.
Some examples of the activities:
Synchronical meeting with a Group of Educators from the DRELM:
[[{"fid":"619","view_mode":"default","fields":{"format":"default","alignment":"center","field_file_image_alt_text[und][0][value]":"Encuentro Zoom con Educadores de Lima, Peru","field_file_image_title_text[und][0][value]":"Encuentro Zoom con Educadores de Lima, Peru"},"type":"media","field_deltas":{"1":{"format":"default","alignment":"center","field_file_image_alt_text[und][0][value]":"Encuentro Zoom con Educadores de Lima, Peru","field_file_image_title_text[und][0][value]":"Encuentro Zoom con Educadores de Lima, Peru"}},"attributes":{"alt":"Encuentro Zoom con Educadores de Lima, Peru","title":"Encuentro Zoom con Educadores de Lima, Peru","height":"459","width":"597","class":"media-element file-default media-wysiwyg-align-center","data-delta":"1"}}]]
Some of the work done on Google Classroom Platform:
[[{"fid":"620","view_mode":"default","fields":{"format":"default","alignment":"center","field_file_image_alt_text[und][0][value]":"Trabajo en Plataforma Google Classroom","field_file_image_title_text[und][0][value]":"Trabajo en Plataforma Google Classroom"},"type":"media","field_deltas":{"2":{"format":"default","alignment":"center","field_file_image_alt_text[und][0][value]":"Trabajo en Plataforma Google Classroom","field_file_image_title_text[und][0][value]":"Trabajo en Plataforma Google Classroom"}},"attributes":{"alt":"Trabajo en Plataforma Google Classroom","title":"Trabajo en Plataforma Google Classroom","height":"545","width":"612","class":"media-element file-default media-wysiwyg-align-center","data-delta":"2"}}]]
Asynchronous Work in Padlet:
[[{"fid":"621","view_mode":"default","fields":{"format":"default","alignment":"center","field_file_image_alt_text[und][0][value]":"Trabajo Asincrónico en Padlet","field_file_image_title_text[und][0][value]":"Trabajo Asincrónico en Padlet"},"type":"media","field_deltas":{"3":{"format":"default","alignment":"center","field_file_image_alt_text[und][0][value]":"Trabajo Asincrónico en Padlet","field_file_image_title_text[und][0][value]":"Trabajo Asincrónico en Padlet"}},"attributes":{"alt":"Trabajo Asincrónico en Padlet","title":"Trabajo Asincrónico en Padlet","height":"426","width":"619","class":"media-element file-default media-wysiwyg-align-center","data-delta":"3"}}]]